Pollution Control Unit - Triple Pass Filter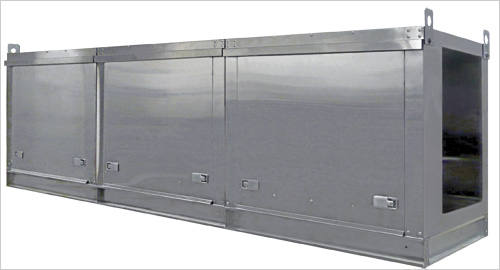 EconAir's Pollution Control Unit removes smoke and grease particles
from the air stream in commercial kitchen exhaust systems.
Features at a Glance
• Constructed specifically to meet kitchen exhaust duct standards
• Optional Odor Removal module
• Optional HEPA Filter Module
• Suitable for indoor or outdoor installation
• Unit shipped in one piece or in sections to facilitate entry and installation
• Stainless Steel Construction
Product Overview
When paired with optional odor control, the PCU also eliminates or reduces odor to acceptable levels. The unit is designed for use with a Grease Master high-efficiency water wash or baffle ventilator and may also be used with other high-efficiency exhaust hoods.
The typical PCU includes a washable steel pre-filter and disposable highefficiency (MERV 14) media filter; a HEPA final filter module is available for smoke control, and odor control is handled via an optional 50/50 blend carbon/permanganate module; sizes range in capacity up to 10,000 CFM; and the PCU is ETL listed to standard UL710 and is suitable for indoor and outdoor installations.
Benefits
• Pre-engineered for the most efficient, cost- effective systems.
• Listed by ETL Testing Laboratories to ensure acceptance by local building officials.
• Service network of over 100 factory trained representatives responding to your service needs.
• One year parts warranty.ld.